Hi Everyone,
As a sewer you will know only too well how easy it is to gather a button collection!
I love buttons and find that the right button can sometimes make an outfit! I therefore also love buying and collecting buttons!
But what happens when you get so many or just want to be creative with a bunch of buttons that you have in your sewing box?
TIP: If you're looking for the perfect gift to make for your sewing friend then you will want to watch this video!
I reveal how you can be creative with your button collection in the video below:

Please leave me a comment below, I would love to hear what you have to say about this sewing tip and any other great ideas you have for buttons!
Next video tip coming soon: 'How to make a sewing weight!'

Happy Sewing,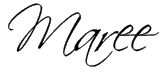 For more information contact:
Maree Pigdon Sewing Centre
T: +61 3 5264 1666
E: [email protected]
W: www.mareepigdon.com