We're having a fantastic time running our first month of our new online sewing club – the virtual sewing room!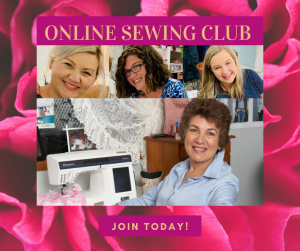 How does it work?
We will hold our virtual sewing room on Zoom.com (much like Skype) where you simply join the group video conferencing call via your smart phone or device.
We will hold a monthly call to connect with us and other like-minded sewing enthusiasts in our club
On the call, there will be a sewing skill development segment from Maree or from a special guest! (Contact us if you would like to be a special guest!)
You will have the opportunity to share what you're sewing at home and ask your sewing questions
Watch the video recording if you miss the live call
Who is this course for?
This course is not only for our sewing students but all sewing enthusiasts around the world, home sewers others who own a sewing school, fabric store or machine shop – We would love for you to join us!
All levels of sewing skills and ages are welcome
You will receive instructions on how to login to the call, however if you're a little bit tech savvy all the better as this course doesn't include tech support. If you need help and have a friend or family member to help you that would be great!
People who love all things sewing and would like to learn from us, connect with other sewers and help inspire them too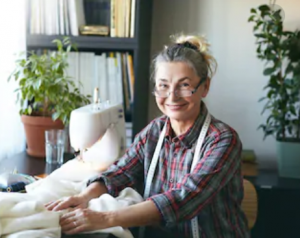 Will you sew on the call?
No, you don't sew on the call, however you can show what you've been sewing, are about to sew or what you've just finished sewing
Maree or a special guest may sew on the call in the sewing tutorial segment.
What will you learn?
You will learn a variety of sewing techniques, tips, pattern reviews etc
You can submit your request for a particular sewing topic or question you would like answered in the sewing tutorial segment and we will do our best to cover it on a future call.
Private Facebook Group Included!
You can join our Facebook group to stay connected with others in-between calls, help inspire each other, post your sewing projects, answer each others questions and share what you're doing and other great sewing tips and resources with each other.
What do you need to join?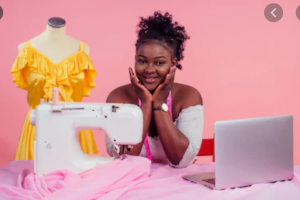 You need to LOVE Sewing! (Or would like to start to learn the art of sewing)
An internet connection
A smart phone or device to access Zoom
Ready to join our Virtual Sewing Room?
To get on the waiting list, enter your name and email at the bottom of this link:
We look forward to welcoming you into our online sewing club soon!
Happy Sewing,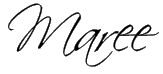 For more information contact:
Maree Pigdon Sewing Centre
M: +61 (0)447744776
E: [email protected]
W: www.mareepigdon.com