Hi Everyone!
As an avid sewer if you have suffered from aching shoulders while working at your sewing machine I have the tip for you!
Many hours spent at the sewing machine can create aching shoulders particularly if you are working on a large sewing project or spending many hours at your sewing machine.
Click below to watch my sewing video on how to avoid having aching shoulders while sewing!

Please leave me a comment below, I would love to hear what you have to say about this sewing tip or your current sewing project!
Next video tip coming soon: 'How to be creative with your button collection!'

Happy Sewing,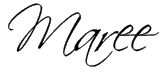 For more information contact:
Maree Pigdon Sewing Centre
T: +61 3 5264 1666
E: [email protected]
W: www.mareepigdon.com