Hi Everyone,
In today's post I feature a video of my daughter Jacqueline who made a sweet little summer dress for our little Poppy.
Jacqueline used an Olive Ann design called the 'To Tie For Dress, Top & Doll dress'.
Jacqueline made this dress from a stretch print fabric and re-designed the hemline to feature a ruffle band. In this video Jacqueline also demonstrates some pattern matching and Poppy wearing her new dress!
If you liked this video, perhaps you have made a similar dress or are now inspired to do so please leave a comment below, we would love to hear from you!
Happy Sewing,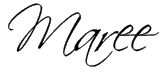 For more information contact:
Maree Pigdon Sewing Centre
T: +61 3 5264 1666
E: [email protected]
W: www.mareepigdon.com