To my wonderful sewing subscribers,
(if you haven't subscribed yet simply enter your name and email now so you don't miss out on my special free sewing video tutorial – 3 part series & Christmas 2011 SALE COMING SOON!!)
In my video below I demonstrate how to create pleats in a basic t-shirt top to make it a 'designer top'. I have taken this video right out of my online sewing workshop – Designer Top No.2. It's just one of the many sewing tutorial videos in the course.
The full course includes all videos required, photographs, download instructions and requirements to complete each designer step for this top.
I hope you enjoy watching this video segment!
Watch out at the 2min 30sec point where my special sewing assistant appears in the right hand corner of the video!
If you are struggling with slow download speeds and your video is stopping and starting, simply click play and then pause, wait approx 5mins for the full video to download and click play for a continuous video stream.
Please leave me a comment below, I would love to hear what you have to say and so would many of my other subscribers!??I know this because so many of you told me in my sewing survey that you would like to hear from other sewers on my blog!
So please help them connect with you!
Next video No.2 in this 3 part free video sewing tutorial series coming to your inbox in the next few days is: 'Embellishment Technique – Couching!'

So stay tuned for part 2!
Happy Sewing,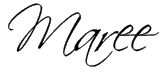 For more information contact:
Maree Pigdon Sewing Centre
T: +61 3 5264 1666
E: [email protected]
W: www.mareepigdon.com
Tags: Designer Sewing, maree pigdon, Online Sewing, Sewing, Sewing Classes, sewing fashion, Sewing Ideas, sewing roulo, sewing school