To my wonderful sewing subscribers,
(if you haven???t subscribed yet simply enter your name and email now so you don???t miss out on my special free sewing video tutorial ??? 3 part series & Christmas 2011 SALE COMING SOON!!)
Would you like to learn how to embellish a garment and change it from a plain classic pattern into a unique one of a kind designer piece?
In my video below I demonstrate the couching technique which is a great embellishment technique. I have taken right out of my online sewing workshop – Embellished Vest & Skirt! It???s just one of the many sewing tutorial videos in the course. This technique can also be used on a variety of different garments and styles of your choice.
The full course includes all videos required, photographs, download instructions and requirements to complete each designer step.
I hope you enjoy watching this video segment!
If you are struggling with slow download speeds and your video is stopping and starting, simply click play and then pause, wait approx 5mins for the full video to download and click play for a continuous video stream.
Have you tried this embellishment technique? Are you keen to try it out? Please leave me a comment below, I would love to hear what you have to say and so would many of my other subscribers!
Next video No.3 in this 3 part free video sewing tutorial series is: 'How to choose fabric & yarns for your next sewing project or for my Designer Top No.3!

If you missed the first free sewing video tutorial CLICK HERE VIDEO 1
Happy Sewing,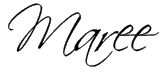 For more information contact:
Maree Pigdon Sewing Centre
T: +61 3 5264 1666
E: [email protected]
W: www.mareepigdon.com