Hi Everyone,
I have some very exciting news to share with you all!
Click below to watch my personal video message where I give you a sneak peak of my sewing news!
I have been working very hard on the release of a new sewing pattern to be available online!
This particular pattern I designed several years ago and it has been extremely popular in my sewing school and workshops.
Many of you have asked for another design of this type of pattern to purchase online…
So I'm very pleased to let you know that it will be available online at the end of this week!
However I just wanted to let you know that it's coming very soon and I invite you to watch my short video on the link above (or below) where I give you my personal update and then I follow on to do one of my very favourite things!
Keep an eye out on Wednesday for an email and video where I will reveal to you exactly what this pattern is and show you some great examples of it made up too!
Until then…
Happy Sewing,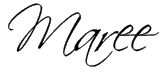 For more information contact:
Maree Pigdon Sewing Centre
T: +61 3 5264 1666
E: maree@mareepigdon.com
W: www.mareepigdon.com
Tags: Bag Pattern, Learn to sew, maree pigdon, Patterns, Sew Pattern, Sewing, Sewing Classes, Sewing Lessons, Sewing Patterns