A National Multi-Award Winning Sewing School offering sewing classes, workshops, online sewing courses, designer projects, exclusive patterns, fashion designing & wardrobe planning
Rosie Bag Pattern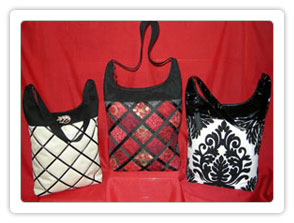 Bags for day or evening ~ 3 Styles
Patchwork, B. Checkerboard, C. Fashion Fabric
Zip top opening
Variable handle length
Fully lined
Internal phone and patch pockets
Size - approx. Width 12 1/2"(32cm), Height at CF 13 1/2" (34.5cm), Base 3"x9 1/2" (7.5cm x 24cm)
Clear & detailed instructions with diagrams included
I needed a new handbag to take overseas with me that looked good but was also big enough to fit my travel wallet and camera in, as well as my purse and the everyday paraphernalia that we all have to carry.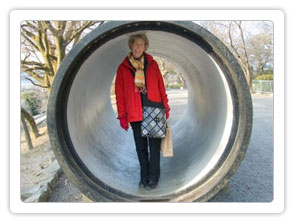 The Rosie Bag is also very roomy, I had no trouble fitting in my maps and tourist guide as well as everything else, my biggest problem was resisting the temptation to fit 'everything' in and making it too heavy to carry!.

My Rosie bag is almost 6 months old now and still being used constantly (and I am still receiving compliments, yeah!).
I highly recommend Maree's Rosie Bag Pattern it's fabulous!
MARILYN DAVIDSON - Geelong, Australia.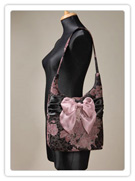 FREE BONUS 1: "TOP 10 TIPS ON HANDBAG CONSTRUCTION!
FREE BONUS 2:"EXCLUSIVE 'BOW' EMBELLISHMENT TECHNIQUES!"
* Do You Struggle To Find Time To Sew?
Inside we have also included a very special offer to help you combat this problem once and for all!
The Rosie Bag pattern is available as an instant online download so you can get sewing right away!
Price is only AUD$19



"I have sewn items with Maree that I didn't think possible. From a formal dress, a ballroom dancing outfit to magnificent patchwork bags. Maree is a teaching genius!"
Tiffany Mc Intosh –
Grovedale, Australia.
"People ask me why I travel so far to learn how to sew? The answer I give is simple. I wanted to learn from the best and am being taught by a master! "
Dezi –
Solicitor, Melbourne
"I feel very lucky indeed to be able to be part of Maree's sewing classes – so enjoyable and informative, fun and companionable. It is a pleasure to come to Rosewood Cottage at Mount Duneed, as it is such a beautiful, peaceful setting. The best thing about Maree's classes is her knowledge and enthusiasm!"
Jenni Wackett -
South Geelong
"Maree always makes you feel very welcome and has lots of time for everybody in class. She is a great teacher and explains very well so you can understand. Plus Maree doesn't mind telling you again if you didn't quite get it the first time. "
Betty Dunn -
Newcomb, Australia