Hi Everyone,
Today is the day I reveal to you my new online pattern!
In today's video below I reveal to you exactly what my new pattern is and show you 3 samples from the pattern!
As I outlined in my previous video I designed this pattern several years ago and it has been extremely popular in my sewing school and workshops.
I'm very pleased to share with you all the features of this pattern in today's video.
What others are saying…
"I love the Kerry Bag Pattern so much I've made three! One to match each of my favourite outfits!" Jennifer VIC
"I think the Kerry Bag is a fantastic bag to make because it's so comfortable to carry and it has plenty of room to fit all my things – even my laptop!" Lisa VIC
So click on the link (above or below) to check it out before the launch this Friday.
This new pattern goes on SALE online at the end of this week! To ensure you are notified of the special launch offer subscribe to my newsletter today!

Here is the link again to check it out on You Tube:
Watch on You Tube – CLICK HERE!
Kerry Bag is available for sale at this link:

http://www.mareepigdon.com/sewing-patterns.html
Happy Sewing,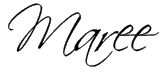 For more information contact:
Maree Pigdon Sewing Centre
T: +61 3 5264 1666
E: [email protected]
W: www.mareepigdon.com