We are so excited to share with you news of our new and up-coming Sewing Club!
Jacqueline has put together a really quick 39 second video with a special message just for you.
Click below to watch it now.
Jacqueline is currently putting all the details together of our new Sewing Club so please keep an eye out for my next blog post in just a couple of days.
Happy Sewing,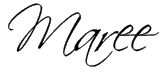 For more information contact:
Maree Pigdon Sewing Centre
T: +61 3 5264 1666
E: maree@mareepigdon.com
W: www.mareepigdon.com
Tags: Learn to sew, maree pigdon, Sewing, Sewing Classes Geelong, Sewing Club