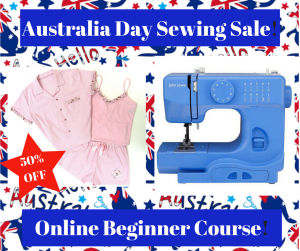 Happy Australia Day Long Weekend – SEWING SALE
Our online version of Zero To Sewing Beginner Sewing Course is now on SALE for only $75! (Normally $150)
7 Days only! 
If you would like to continue your sewing skills at home in 2018 and would like me right there by your side (via video!) helping you every step of the way…
Now is your chance to purchase our online video PJ course for 50% OFF!
- 5 Hours of online video sewing tutorials with Maree!
- Step by step instructions
- Watch anytime you like
- Lifetime access
- Bonus modules on how to make your PJ's Designer!
To purchase your online version today click on the link below:
http://www.mareepigdon.com/Online-Sewing-Class/zero-to-sewing.html
Don't miss out, limited time only.
Want to share the sewing bug? Feel free to email this offer to a friend or buy it for someone special in your life as a great gift idea for their birthday in 2018!
Thanks for being part of our sewing community, we wish you all a wonderful, creative and fun filled 2018!
Happy sewing,
Maree
Maree Pigdon Sewing Centre
M: 0447744776 
Tags: Beginner Sewing Course, Learn to sew, Online Beginner Sewing Course, Sewing Classes, Sewing Lessons