To become an amazing Fashion Designer for your own wardrobe!
First step is to learn how to sew!
In this course you will learn how to:
- Use a sewing machine
- Read and follow a pattern
- Measure yourself and cut your fabric
- Start sewing the right way from day one!
- Sew your first full set of PJ's including button holes
- Make your PJ's 'Designer' with gorgeous trims, embellishments and more!
X2 Full days held on Saturday 18th & 25th March, maximum 8 students per class
Price: $297

For more info go to: http://www.mareepigdon.com/Sewing-Classes/beginner-sewing-classes.html
Happy Sewing,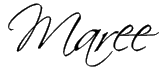 For more information contact:
Maree Pigdon Sewing Centre
T: +61 3 5264 1666
E: maree@mareepigdon.com
W: www.mareepigdon.com