Merry Christmas & Happy New Year!
I wish you all a fabulous festive period, thanks for being part of my sewing community and I look forward to seeing you in 2015!
Below is my special Christmas video!
If you're still looking for a last minute Christmas Gift idea we're selling sewing vouchers!
Simple email us to request a sewing voucher for yourself or friend and we'll create and send it to your inbox in a flash!
Thanks for watching!
Happy Sewing,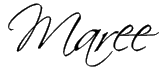 For more information contact:
Maree Pigdon Sewing Centre
T: +61 3 5264 1666
E: maree@mareepigdon.com
W: www.mareepigdon.com