A National Multi-Award Winning Sewing School offering sewing classes, workshops, online sewing courses, designer projects, exclusive patterns, fashion designing & wardrobe planning
zero to sewing in a weekend - Next Class march 2014
Learn to sew in a weekend using The STITCH™ Technique created by Maree Pigdon!
The STITCH™ Technique is a fun, inspiring and educational way to learn how to sew.
Would you like to learn to sew or re-fresh your sewing skills?
If YES then the 'Zero To Sewing In A Weekend' workshop is for you!
In Maree's workshop you can attend a TWO DAY workshop where you can step in for fun filled days of sewing and designing and step out with new skills and a finished PJ set!
Workshops are a great way to learn how to sew without having to commit to a term of sewing classes and can be quick and easy!
Maree runs her sewing workshops at Rosewood Cottage Geelong and online! So if you can't make it to Rosewood Cottage or can't wait a minute longer to get started and still have Maree's teaching online!
ZERO TO SEWING IN A WEEKEND - Beginner sewing clinic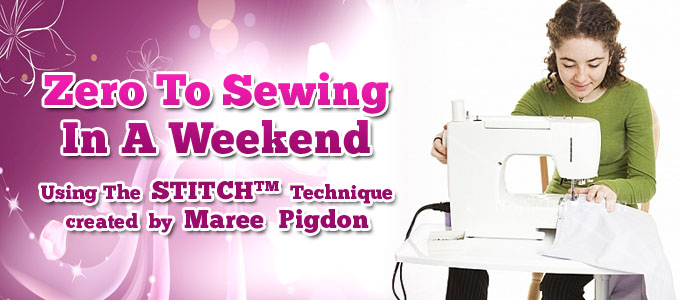 "Would you like to learn how to Sew? Are you a beginner sewer and looking to learn the skills of dressmaking?"
If you would like to take your first and easy step to learn core technical skills of sewing and dressmaking…
For 2 days you can attend Maree's Zero To Sewing and learn: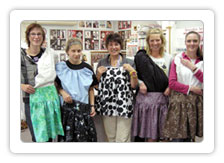 Basic Sewing & Seam Finishing
Sewing Machine Technical Skills
Button Holes
Introduction to Patterns including how to measure and fit to your size
Introduction to fabric selection and fabric types
Make your very own beginner sewing project
Bonus Included: Pattern, Tracing Vilene, Interfacing & Bobbin.
Duration: x2 full days from 9am until 5pm

Includes: Basic Beginner Sewing Kit, Morning & Afternoon Tea, maximum of 8 students per group, sewing machines provided and excellent sewing facilities.
Sewing Machines: Sewing machines are provided for you in this course. If you have your own you are most welcome to bring it along however it is not necessary to have your own sewing machine at home to complete this course.
Location: Rosewood Cottage Sewing Studio – 23 Kalkarra Crescent Mount Duneed Vic 3217

Cost: $277 per student
Watch this video below where I demonstrate an example of what you can make in my Beginner Sewing Clinic!
Check out these gorgeous PJ's that you can learn to make yourself too in "Zero To Sewing In A Weekend"!
If you would like to book into my Zero To Sewing in a weekend course please don't delay as places are limited.

CALL NOW: 03 5264 1666
P.S. Check out my blog post to see what past students made as well! CLICK HERE
"Maree, Thank you so much for the 'PJ Beginner Clinic Workshop' I can't even express how much I enjoyed my time learning from you. My husband commented that he had never seen me so excited by something other than my children!!! I am so proud of my PJ's and also the PJ trousers I have done so far for my kids." Belinda
TEXTURED SCARVE'S
This workshop is for those who love scarves' or would like to learn how to jazz up their outfits! In this half day workshop you will learn special techniques to make your own textured scarf!
Call 03 5264 1666 to make a booking
TEXTILE FABRIC MAKING
This full day workshop is fantastic for those who would like to learn how to make their very own unique fabrics! You will learn how to make your own textile fabric to then use for garments, bags, cushions, vests, belts and embellishment panels. It's fun, creative and only limited sewing experience is necessary.
Call 03 5264 1666 to make a booking
APRONS!
This full day workshop is great to make your own special apron to keep you both clean and looking lovely in the kitchen or as a great gift idea. Featuring pockets, hand towel & embellishment techniques.
Call 03 5264 1666 to make a booking



"Maree is the best sewing teacher in the whole world!"

Loren Dolphin –
Ocean Grove, Australia..
"Whatever you have come to learn, Maree will help you achieve and more! The best thing about Maree's classes are the tips, tricks and belly aches from laughing! Thanks Maree."

Julie Armstrong –
Barwon Heads, Australia. .
"The best thing about Maree's classes are the things we learn and friendships made - and a lot of help when we are feeling poorly!"

Bebe Quick –
Manifold Heights, Australia.
"Maree's sewing classes are excellent and you gain great friendships"

Pat Matthews –
Waurn Ponds, Australia.