IRON SHIELD
Price is $28.00
The 'Iron Shield' is an essential sewing tool for your sewing kit and/or home ironing.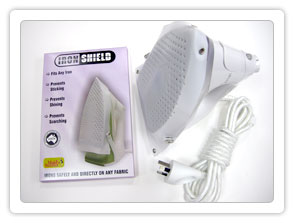 Fits Any Iron
Prevents Sticking, Shining or Scorching
Increase the life and look of your garments & clothing
Renews iron life
Complete fitting instructions included
Australian Owned and Australian Made
With your Iron Shield you can iron safely and directly onto any fabric!

By simply fitting the Iron Shield to your iron as per the enclosed instructions you can iron any fabric without burning, sticking or making the garment shiny!

Whether it's nylon, pure silk or parachute silk, taffeta or terylene you can iron on maximum temperature without damaging the fabric.

You can even iron your t-shirt and tops with moulded rubber or plastic transfers or printed images without smudging or lifting.

Jeans and cords are difficult to iron but with the Iron Shield you can handle them with ease, reducing ironing time.
Please note the next shipping date for this product is 1st February 2011
Buy A Sewing Gift Voucher
Online Sewing Classes Members
Login
Testimonials
"I have sewn items with Maree that I didn't think possible. From a formal dress, a ballroom dancing outfit to magnificent patchwork bags. Maree is a teaching genius!"
Tiffany Mc Intosh –
Grovedale, Australia.
"People ask me why I travel so far to learn how to sew? The answer I give is simple. I wanted to learn from the best and am being taught by a master! "
Dezi –
Solicitor, Melbourne
"I feel very lucky indeed to be able to be part of Maree's sewing classes – so enjoyable and informative, fun and companionable. It is a pleasure to come to Rosewood Cottage at Mount Duneed, as it is such a beautiful, peaceful setting. The best thing about Maree's classes is her knowledge and enthusiasm!"
Jenni Wackett -
South Geelong
"Maree always makes you feel very welcome and has lots of time for everybody in class. She is a great teacher and explains very well so you can understand. Plus Maree doesn't mind telling you again if you didn't quite get it the first time. "
Betty Dunn -
Newcomb, Australia