A National Multi-Award Winning Sewing School offering sewing classes, workshops, online sewing courses, designer projects, exclusive patterns, fashion designing & wardrobe planning
Welcome to MY ON-LINE SEWING
"Frequently Asked questions"
Q1. How can I purchase the online sewing courses and workshops?
A: Simply click the BUY NOW button next to the displayed course on our website and pay by Pay Pal or via credit card
Q2. When will I be able to access my Online Sewing Course?
A: After your purchase you will be granted access within approximately 5 standard business working days. If you don't receive access after 5 days please contact us.
Q3. How long do I have access to the online sewing classes after purchasing?
A: There is no end date, you can purchase now and use when it suits you. Note you will have access for as long as we have this site available!
Q4. Are times of online sewing classes restricted?
A: No, once you have made your purchase and been granted access you can access, read, follow, download your class material 24/7.
Q5. What can I expect from the online sewing classes and workshops?
A: You will receive the following:
A full, comprehensive sewing instruction document to download, save to your computer and print to take to your sewing area.
A requirements document to ensure you have or can purchase everything you need for the course.
Diagrams to refer to.
Sewing Video Tutorials of Maree in her sewing studio at Rosewood Cottage. Tutorial segments are between 2 - 9 minutes each. Each workshop or course varies between approximately 4 to 10 video tutorials.
Supporting photos of garments where required.
Q6. Will I receive anything in the post?
A: No, everything you need will be accessed online from your membership area.
Q7. What sewing experience do I need?
A: Each product or sewing project, workshop or course will outline the level of sewing required.
Q8. What currency are the purchases in?
A: AUD - Australian Dollars.
Q9. What if I am not happy with my online sewing course after purchasing?
A: Simply request your money back via email to jacqueline@mareepigdon.com within 30 days of purchase and we will happily refund your money.
Q10. What if I have feedback on the course I have purchased?
A: We would love to hear your feedback and anything you are not happy with we will endevour to review and update.
Q11. Will I receive new updates even if I purchased the course prior to the changes?
A: Yes! Any updates we make to the online sewing course information, documentation, video's etc will immediately update your membership area with the changes regardless of when you purchased it.
If you have any other questions please email Jacqueline at:
Happy Sewing,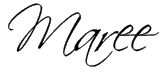 "I have sewn items with Maree that I didn't think possible. From a formal dress, a ballroom dancing outfit to magnificent patchwork bags. Maree is a teaching genius!"
Tiffany Mc Intosh –
Grovedale, Australia.
"People ask me why I travel so far to learn how to sew? The answer I give is simple. I wanted to learn from the best and am being taught by a master! "
Dezi –
Solicitor, Melbourne
"I feel very lucky indeed to be able to be part of Maree's sewing classes – so enjoyable and informative, fun and companionable. It is a pleasure to come to Rosewood Cottage at Mount Duneed, as it is such a beautiful, peaceful setting. The best thing about Maree's classes is her knowledge and enthusiasm!"
Jenni Wackett -
South Geelong
"Maree always makes you feel very welcome and has lots of time for everybody in class. She is a great teacher and explains very well so you can understand. Plus Maree doesn't mind telling you again if you didn't quite get it the first time. "
Betty Dunn -
Newcomb, Australia