Hi Everyone,
As a sewer you will know there is always a lot of ironing and pressing to do while sewing. Pressing during sewing is an essential part of the sewing process to help make your garments professional.
Yet when it comes to pressing iron-on interfacing you can run into some challenges regarding your ironing board cover! It can become sticky and you can risk ironing on bits of fabric, dust and glue onto other pieces of your garment which is less than desirable!
So today's sewing tip I share with you a fantastic tip to help keep your ironing board clean and extend the life of your ironing board cover.
Click below to watch my sewing video tip!
Please leave me a comment below, I would love to hear what you have to say about this sewing tip!
Next video tip coming soon: 'How to avoid aching shoulders while sewing!'
Happy Sewing,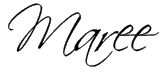 For more information contact:
Maree Pigdon Sewing Centre
T: +61 3 5264 1666
E: maree@mareepigdon.com
W: www.mareepigdon.com