To all my dear sewing friends,
I would like to wish you all a very Merry Christmas and a Happy, Safe and Prosperous New Year for 2013 which is also filled with fantastic sewing projects!
Check out my Christmas video just for you and my Christmas DANCE MOVES!
I would just like to take this opportunity to thank you all for being part of our community here at Maree Pigdon Sewing Centre.
Thank you to all my wonderful sewing friends and students who make each and every day in Rosewood Cottage so pleasurable. Also thanks to all our customers and loyal subscribers!
We are so pleased to have you with us and for the opportunity to help you develop your sewing skills, inspire new ideas and share creative projects from others.
Looking forward to seeing you all in the new year!
Happy Sewing,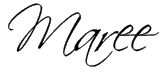 For more information contact:
Maree Pigdon Sewing Centre
T: +61 3 5264 1666
E: maree@mareepigdon.com
W: www.mareepigdon.com