A National Multi-Award Winning Sewing School offering sewing classes, workshops, online sewing courses, designer projects, exclusive patterns, fashion designing & wardrobe planning
Betty & Faye's Shirts!
May 04 2009.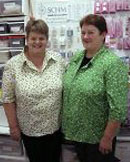 Term 1 brought to my door Betty & Faye as pictured here. Both were having difficulty in purchasing shirts and blouses to fitand decided it was time to make their own.

We set about making all the necessary pattern changes to accommodate their body shapes. Both girls are full busted.

We made bust adjustments which you can see in the pictures.

Both girls achieved a great finish on their shirts and learnt the finer points of making and attaching a shirt collar.


Well Done Girls!!



"Maree is the best sewing teacher in the whole world!"

Loren Dolphin –
Ocean Grove, Australia..
"Whatever you have come to learn, Maree will help you achieve and more! The best thing about Maree's classes are the tips, tricks and belly aches from laughing! Thanks Maree."

Julie Armstrong –
Barwon Heads, Australia. .
"The best thing about Maree's classes are the things we learn and friendships made - and a lot of help when we are feeling poorly!"

Bebe Quick –
Manifold Heights, Australia.
"Maree's sewing classes are excellent and you gain great friendships"

Pat Matthews –
Waurn Ponds, Australia.